Recently, we've been working closely with Enovation eLearning in developing a new brand and language. It's always a joy to work with clients who already understand that their brand must connect with the needs of their own customers.
Gary and the guys in Enovation pride themselves on the quality of eLearning services that they provide to a number of diverse industries across Ireland, the UK and France. When we began working with them, we emphasised that it was important to bring potential customers on a journey with them, and clearly show how the key services that they provide are linked. They needed to emphasise that working with Enovation would make life easier for their customer, and provide a fully managed seamless service as well as individual product development.
The brand identity we created helped to reinforce that message, symbolising the smooth user journey and step by step learning while capturing the varied services that they offer. We reinforced this with the tagline 'Learn. Empower. Grow', which focuses on the benefits to their customer.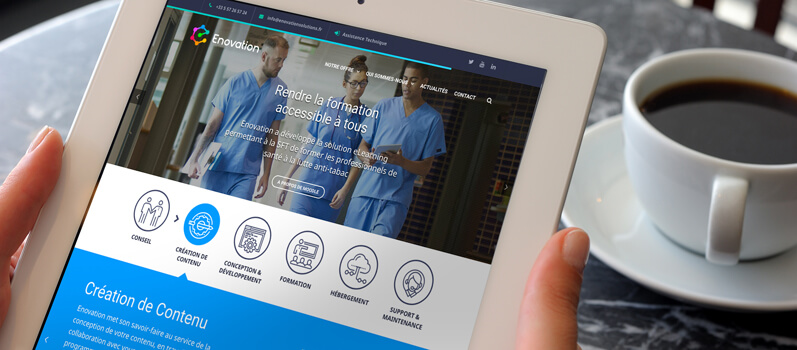 With the design & development of their French and English websites, it has given us a further opportunity to lead their customer along a seamless journey of learning through technology, from initial Consultancy through to System Design & Development, Training and Support. It's a website designed to illustrate that Enovation understand the eLearning challenges that companies face and can provide them with a bespoke solutions that ultimately maximises the performance of their staff.
See the results at their recently launched French site here. (For all non-French speakers, the Irish site is soon to be launched!)